Whether you're a person who blogs for fun, or host a business blog for your creative business this month's challenge is for YOU! As part of An Inspired 2015 I want to discover new blogs and share some creative inspiration.
I've been blogging for 5 years now and that's a pretty long time to be creating content and thinking about the comments people leave and the feedback that I hear. I've been so lucky to have found a corner of this making community that just loves to share inspiration with me and now I want to return the gesture by challenging you to fall back in love with your blog!
Are you ready for the 'Love Your Blog Challenge'?
Q: Who can enter?
Everyone! Even if you've never blogged before, join in and link up for inspirational ideas and to discover others who inspire you too
Q: How does it work?
Throughout April, I will post an inspirational topic, idea or theme for you to explore every Monday. How you do it is entirely up to you- use words, use linked in social media (hashtag #loveyourblog #aninspired2015), images, anything! Just get CREATIVE. Each Monday, post your blog response in the handy dandy link up form I will post along with the next week's creative challenge. That way, others can see what you've been writing about too. Think of it as an accountability check in for the month of April.
The first blog prompt is already up and I will post the first link up on Monday 6th April along with my response to the prompt. The challenge will run weekly until the last prompt on 27th April 2015. Why such a limited time? I want the chance to comment, share and explore the responses that you've taken the time to create.
Q: Are there any rules?
Yes and they're simple:
Please only share new content. This is a chance to freshen up your blog and be a part of an inspirational community.
Please only share material that is your own. No copywrong here please.
Only link to your 'Love Your Blog' post (general blog links will be deleted)
Please link back to this Love Your Blog post each week. (Please don't just sign up for traffic to your blog, this is about loving our blogging community, so share the inspiration!)
Please do tweet, pin, link in Instagram content and post on Facebook. If you earburn me (aplayfulday on all social media, Greentrianglegirl on Ravelry), I promise to share it (as long as you followed these guidelines and there's nothing offensive to my followers).
Please take the time to click through to others blogs, leave comments, reach out and share inspirations!
Q: Do you have a button I can grab and insert to link back to you?
Yes I do! To insert this into your blog posts or blog side bar, highlight the code from the box below the image and select all. Copy it and then paste it where you want it to appear.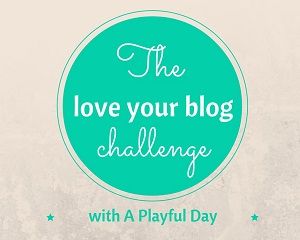 Q: I have more questions, where can I ask them?
Come join in the chat in the Ravelry thread and I'll do my best to help.
#loveyourblog #aninspired2015